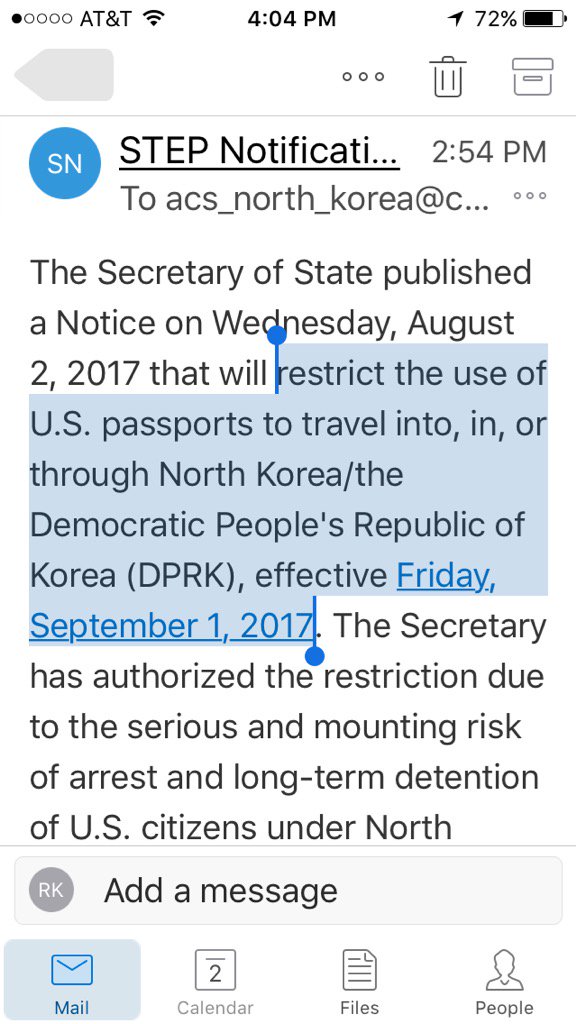 This is a repost of an essay I wrote for the Lowy Institute recently on the travel ban preventing Americans from going to North Korea as of September 1 this year. The picture is the US State Department mailer to this effect from a few days ago on my iPhone.
Basically my argument is that the ban is a good idea at this point given how many foreigners Kim Jong Un seems to be snatching during his reign. The numbers have gone up, and although I went to North Korea as a tourist myself and have recommended it in the past, I no longer do so, especially for Americans. It's just way too dangerous now.
Otto Warmbier's death is the last straw, as I figure it was for Tillerson. At the time of his death, I thought a travel ban might well be the next step. I still find it curious that Kim Jong Un did not let Warmbier leave earlier. The tourist trade brings in needed dollars, and Pyongyang is already complaining about the US halt. They easily could have let him go when he fell into a coma and then just pretextually snatched the next idiot US tourist who drank too much to replace Warmbier. But they held onto him to the point where they're responsible for his death. Pointless. Just shows once again how awful North Korea really is.
My full essay on the travel ban follows the jump: